Chesapeake Bay Yacht Racing Association wins 2019 Mallory Trophy
by Jake Fish 9 Sep 08:00 EST
5-8 September 2019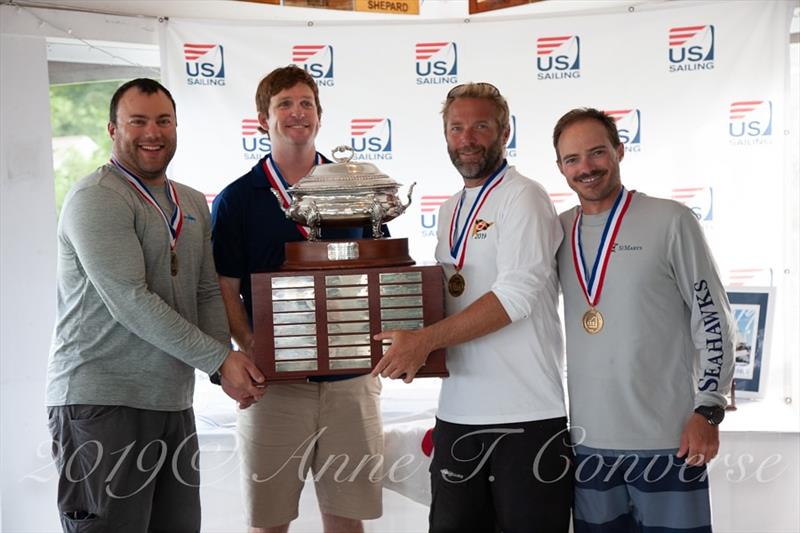 2019 Champions from CBYRA – L to R: Jake Doyle, John Loe (helm), Robbie Deane, Jamie Gilman – 2019 U.S. Adult Sailing Championship © Anne Converse

The 13 teams representing their Regional Sailing Associations were challenged by the fast-paced action with varying conditions on Buzzards Bay over four days at the 2019 U.S. Adult Sailing Championship for the Mallory Trophy, hosted by the Beverly Yacht Club. This year's "Mallory" proved to be a US Sailing National Championship to remember. After 48 total races including six races in Sunday's Stage 3 Final, a winning team was determined.

John Loe (Highland Beach, Md.) and his team representing the Chesapeake Bay Yacht Racing Association (CBYRA) and the Annapolis Yacht Club earned the win on Sunday in a closely contested final round. The winning crew includes Jake Doyle (Annapolis, Md.), Jamie Gilman (Galveston, Texas), and Robbie Deane (Essex, Md.).

Loe and Trey Sheehan (Chagrin Falls, Ohio), of the Inter-Lake Yachting Association (I-LYA), each finished Sunday's Stage 3 Final Round with 23 points over six races to place them in a tie atop the leaderboard. Loe earned the tie-breaker edge over Sheehan with their three first place finishes on Sunday over Sheehan's one first place finish.

Crewing for Sheehan and the I-LYA this week was Brad Boston (Point Edward, Ontario, CAN), Curtis Florence (Ohio), and Tyler Black (Newport, R.I.).

The top eight teams started the Final Round with a point representing their Qualifying Place (QP).

Overall Results: (Stage 3 / Sunday, Top 8)
John Loe (Chesapeake Bay YRA): 1 (QP) -6-1-8-4-2-1 = 23pts

Trey Sheehan (Inter-Lakes YA): 2(QP) -2-2-1-5-5-6 = 23pts

Peter Levesque (Narragansett Bay YRA): 3(QP) -8-3-4-1-4-3 = 26pts

Ryan Seago (Detroit RYA): 6(QP) -1-6-2-6-3-2 = 26pts

Will Stocke (Florida SA): 4(QP) -3-5-5-7-1-4 = 29pts

Mike Hanson (Inland Lake YA): 5(QP) -5-7-3-3-7-7 = 37pts

Matt Romberg (Texas SA): 7(QP) -7-4-6-9-6-5 = 44pts

Chip Johns (Southern Mass. SA): 8(QP) -4-8-7-2-8-8 = 45pts
Full results available here.

Sunday Quotes:

John Loe (Chesapeake Bay YRA):

"We were racing for my grandfather this week who is not feeling well. I wasn't sure I was going to make it here. That's who we were racing for and that's why we are here."

Trey Sheehan (Inter-Lakes YA):

"It was fantastic sailing this week and we had a great time. Race committee did a great job and the Beverly Yacht Club threw one heck of a party."

Ryan Seago (Detroit RYA):

"The best advice I could give out here is to keep it simple and don't over think it. The course is always a new game for every start."

Peter Levesque (Narragansett Bay YRA):

"We approached every race like a new challenge in the variable, shifting conditions. The fleet was very tight. You could drop five places at any one of the marks. It was very hard to go the other direction."