2019 Etchells U.S. National Championship at American Yacht Club
by American Yacht Club 25 Sep 15:18 EST
13-15 September 2019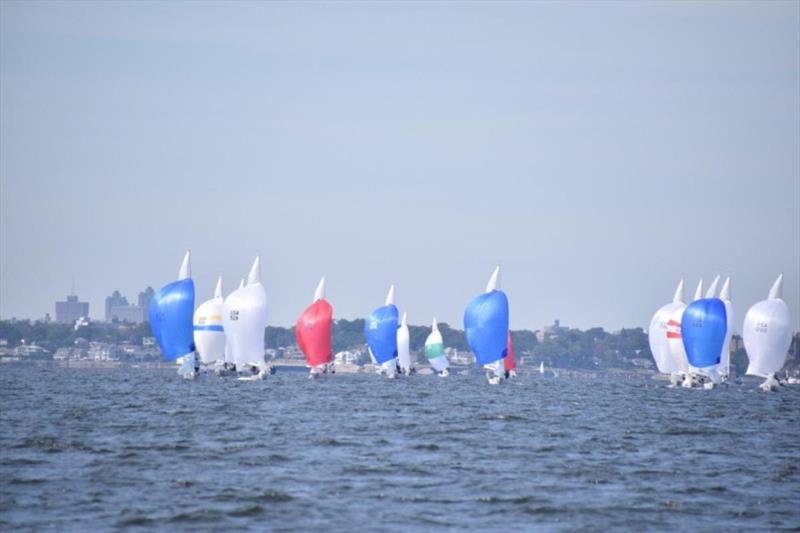 2019 Etchells U.S. National Championship © American Yacht Club

The Etchells U.S. National Championship hosted by American Yacht Club kicked off on Friday, September 13th with over 75 competitors from across the U.S. that included several World Champions and Olympians.

"Fall Sailing at American (Yacht Club) can be some of the best sailing in the country. We have such a great venue and lots of varying breeze directions each with their own characteristics. This event is great because the Etchells class is a wonderful group of people." Said AYC Sailing Director Kevin Broom.

"Etchells are sailed all over the world and we have one of the original fleets right in our own back yard. It's incredible to see the level of talent walking around the parking lot. Sail makers, boat tweakers, riggers, former Olympians, All-Americans, authors and professional sailors, the list goes on and on."

The AYC Race Committee did a wonderful job of reading the wind shifts throughout the weekend, adjusting the course accordingly in challenging conditions to assure sailors of 4 quality races on both Friday and Saturday.

"We've been lucky with the breeze to have completed four races over the first two days" said Rich Hulit, Principal Race Officer and Co-Chair of the American Yacht Club Race Committee. "The goal has been to run fair races for the competitors. It's our pleasure to host the Etchells fleet and are glad they are here."

Winning the first race on Friday was "America Jane 11" (USA 1198), helmed by 2017 North American Champion, Scott Kaufman. Jim Cunningham, Steve Hunt, Erik Shampain and Carrie Wiley finished second aboard "Lifted" (USA 1461), while Stephen Benjamin, Joseph Morris, Ian Liberty and Dave Hughes finished third aboard "Terrapin" (USA 1228).

Jay Cross aboard "Skanky Gene" (USA 1464) won the second race of day 1 with George Francisco of "American Baby" (USA 1394) and "Lifted" (USA 1461) finishing in second and third.

Other notable day 1 performances included American Yacht Club's own "Dark N'Stormy" (USA 1262) helmed by Ed Tillinghast, Ed Tillinghast III, Alexandra Tillinghast, Toney Rey and Erin Sauder, as well as Don Dowd, Sandy Weil and Eric Dowd of "Tar & Feathered" (USA 1397).

"The level of skill and talent is inspiring. We are proud that so many local sailors are mixing it up with some of the seasoned PROS. The American Yacht Club boats are holding their own against some incredibly stiff competition" said Broome.

Following the first day of racing, competitors celebrated the 50th Anniversary of Fleet #1 and the Etchells class inside American Yacht Club's beautiful dining room overlooking Long Island Sound with savory dishes prepared by Chef John Menz and his team. Joining the competitors was keynote speaker Dave Curtis, a lifelong Etchells champion winning the World Championship seven times, as well as two national titles and nine North American Championships.

"It's great to have so many guests join us at the club. Hosting 50 keelboat boat regattas may be a lot for other clubs, but we we can take this one in stride. Bud's team does an amazing job with logistics and getting everyone in and out of the water" said Broome.

With no racing on Sunday due to low winds, Saturday's action proved to be the difference maker. "Lion Heart" (USA 1412) kicked off day 2 with a bullet in the third race, helmed by Steve Girling, Adrian Owles and Lars Osell. Close behind "Lion Heart" was "Gumption3" (USA 14654) finishing second and "American Baby" (USA 1394) finishing third.

After posting a five in race 3, "America Jane 11" finished with a bullet in race 4 to move into third place overall. With "America Jane 11" climbing up the leader board, "Lifted" and "American Baby" also had strong finishes in race 4 to finish the weekend first and second respectively.

Despite no racing on Sunday, competitors joined each other on shore for another wonderful awards ceremony orchestrated by American Yacht Club. Wine aficionados enjoyed fine wines that were provided by Landmark Vineyards and JUSTIN winery.

Thank you to both Landmark Vineyards and JUSTIN Winery, along with Fiji, for sponsoring the Etchells U.S. National Championship.

More information at facebook.com/americanyachtclub