Deputies Assist Kayakers in Prairie RiverPublished on 09/16/2019 under News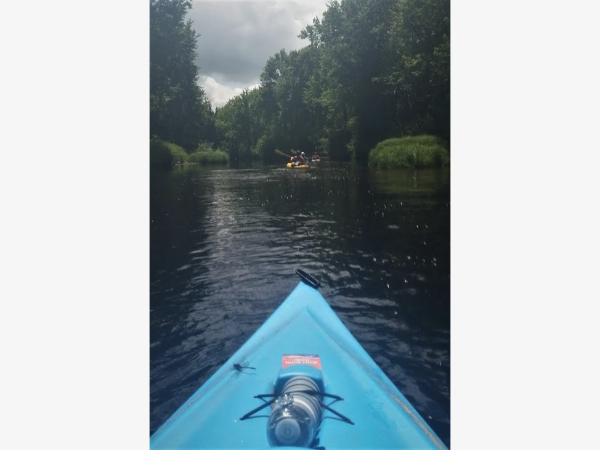 For the third time in recent weeks, deputies from the Lincoln County Sheriff's Office assisted in rescuing kayakers that became stranded.

While the previous two responses occurred on the Wisconsin River east of Tomahawk, this weekend's incident happened on the Prairie River south of Gleason.
A 911 caller initially reported an empty kayak floating down the river at around 4pm Sunday. Deputies later learned that four paddlers were thrown from their kayaks. Eventually all four of the kayakers were located safe.

One of the deputies was able to locate two of the four missing kayaks by utilizing a drone.

---
In Other News
Hatchet Cross Country Teams Compete in Shawano Invite

Published on 09/16/2019 under SportsAfter unsafe course conditions canceled their meet at Fall Creek, a quick revision enabled the Hatchet Cross-Country team to travel to Shawano on Saturday for a 27-team invitational against several StateRanked teams. The girls and boys varsity both placed in the runner-up spot in D2, while the JV squads both placed 3rd overall out of all D1-2-3 teams. Overall the varsity girls placed 3rd of 26 teams, while the boys placed 4th of 27 teams. Drew Bolder was the top Hatchet as he placed 4th in D2 (15th overall in the 177 runner field) with his 17:27 5K effort. He was the lone D2 medalist for the Hatchet boys. Teammate Noah Buckwalter (D214th-17:55), Garron Albrent (D2-18th-18:18), Keaton Jed (D2-22nd-18:31), Trey Baalke (D2-25th-18:39), Arden Ziert (D2-28th-18:45), and Jack Lacina (D2-43rd-19:37) completed the varsity scoring for the runner-up D2 finishers. Seniors Haley-Voermans-Dean and Meagan Berg led the lady Hatchets with their 4th and 9th place D2 medalists efforts. Haley covered the 5K course in 20:01 and Meagan went 20:56. They were followed closely by sophomores Emily Lacina (D2-12th-21:05), Macey Mann (D2-18th-21:47), Kate Reilly (D2-19th21:51), and Geena Wanta (D2-33rd-23:24). Also, contributing on the varsity level was freshman Neenah Fuste as she placed 43rd in 24:12. The girls JV squad started the invitational off in the first race of the day by placing 3rd overall out of 18 teams. They were led by freshman Greta Tjugum's personal best 5K effort of 23:19. Greta finished as a 6th place medalist. She also shared space on the medalist podium with teammates Serena Reinke (10th23:28 PR) and Gillian Buckwalter (15th-23:49 SB). Other JV finishers included: Autumn Peissig (25th24:30), Leslie Vance (38th-25:16 PR) and Ava Dragosh (68th-26:30). The boys JV squad was led by Alex Norman's 9th place medalist PR effort of 18:48. Hunter Borchardt (17th-19:22 SB), Hunter VanRyen (30th-19:58 SB), Reed Zedler (43rd-20:19 PR), Brady Tjugum (53rd-20:42 SB), Jacob Towle (81st-21:14 PR), Taje Casey (119th-22:23 PR), John Mark Hawley (154th -23:39 PR), Trey Miller (193rd) and Henry Calhoun (194th) were the final Hatchet JV finishers. Boys Varsity (D2) Team Scores: New London (31), Tomahawk (79), Winneconne (97), Shawano (131), Peshtigo (131), Seymour (133), Xavier (137), Oconto Falls (181), Marinette (Inc) and Sturgeon Bay (Inc). Girls Varsity (D2) Team Scores: Winneconne (43), Tomahawk (59), Xavier (89), Shawano (90), New London (130), Oconto Falls (172), Marinette (173), Peshtigo (197), Sturgeon Bay (209) and Seymour (Inc.) Next week Saturday the Hatchets make their annual visit to the Tribute Golf Course on the north side of Wausau for the prestigious Smiley Invitational, one of the largest Cross-Country invitationals in the Midwest. The meet gets started with the boys JV race at 8:30 am.

+ Read More
Lincoln County Sheriff Fall Ride Report: No Major Incidents

Published on 09/16/2019 under NewsSometimes no news is good news, and that was the case in Lincoln County this weekend for Fall Ride. The Lincoln Sheriff's Office says that with the large number of motorcycles in the area, coupled with added patrol hours through a state grant, they did see an increase in the volume of calls. However, they reported no major incidents were investigated by the Sheriff's Office during Fall Ride weekend. They also said no motorcycles were involved in any crashes on Lincoln County Roadways. We expect to hear from the Tomahawk Police Department later today regarding any calls within the City.

+ Read More
Several Local Schools Receive AODA Grants

Published on 09/16/2019 under News Several local school districts were selected to receive grants aimed at reducing or preventing the use of alcohol, tobacco and drugs among students. Overall, the Department of Public Instruction awarded nearly $900,000 in grants to 68 school districts. Among the recipients are three local districts in Lac du Flambeau, Athens, and Phillips. State Superintendent Carolyn Stanford Taylor said in announcing the grants, "Many of our funded schools will take a comprehensive approach to addressing AODA issues by employing multiple strategies. There is recognition of the need to look at students' use of drugs, alcohol, or tobacco in the larger context, encompassing the mental health and well-being of the school community as a whole." AODA program grants support teaching of skills and information along with necessary resources to prevent alcohol and drug use. These grants use multiple strategies and link resources from home, community agencies, and the school. These grants are eligible to be renewed for next school year, as well.

+ Read More
DNR Encourages CWD Testing in Northwoods

Published on 09/16/2019 under News With the bow season opening this past weekend, the DNR is again encouraging hunters in the Northwoods to submit samples for testing of chronic wasting disease. With three positive tests along the Oneida/Lincoln County border in the past year, this region is one of the DNR's areas of focus. Hunters who harvest an adult deer in Lincoln, Langlade, Oneida, Vilas, Forest and Florence counties are strongly encouraged to submit samples for testing. The DNR says, "The health of the deer herd relies upon commitment from our hunters. Managing CWD begins with knowing where the disease already exists on the landscape, and having this knowledge is only possible with a robust sample size." There are two smaller regions surrounding the positive tests where the DNR will again make property specific CWD Surveillance Tags available. (Contact Jaqi Christopher in Rhinelander by phone (715-401-2871) or email at jacquelyn.christopher@wisconsin.gov to set up an appointment. Surveillance permits cannot be issued by customer service staff or online.) Acting DNR Director Tami Ryan said in the announcement, "We're grateful for hunters making that extra effort to have their deer sampled for CWD, and to support them, we continue to make access to sampling simpler, faster and easier each year." CWD testing is free, and results are usually returned in two to three weeks. There are a number of drop-off locations available including kiosks at DNR stations in Tomahawk, Prentice, Merrill and Rhinelander. The DNR has a full list on their website. (Photo: The DNR is granting CWD Surveillance Permits on properties in the Northwoods. In addition to these permits, they encourage Northwoods hunters to submit samples.)

+ Read More
Merrill Fire Department:Two Calls, Minimal Damage Sunday

Published on 09/16/2019 under News The Merrill Fire Department responded to a pair of fires Sunday. The first call came at around 8am at a property on Logan Avenue. According to their daily report, the fire was contained to the attic space. Crews were able to extinguish the fire immediately with no further damage to the structure. A second call came in a shortly before noon. Smoke was showing in a field off of Joe Snow Road. No structures were threatened, and the fire was under control upon arrival. No injuries were reported in either incident.

+ Read More
Lincoln County Sheriff's Report

Published on 09/16/2019 under NewsA 19 year old Tomahawk man was arrested Monday morning on felony drug charges after a traffic stop in the City of Merrill. The Merrill PD K9 Eros alerted to the odor of illegal drugs in the vehicle and during a search, methamphetamine and drug paraphernalia was located. A 58 year old Eau Claire man suffered serious injuries after a two vehicle crash Monday morning in the town of Bradley. The driver was taken to Ascension Sacred Heart Hospital and then flown to the trauma center at Aspirus. Two residents from Canada were arrested Thursday evening after deputies investigated a report of a disturbance in the Town of Bradley. A 42 year old male from Emo, Ontario and a 41 year old female from Fort Frances, Ontario were arrested after deputies investigated the incident which occurred just before 10:00 PM. A 25 year old Merrill man was arrested Friday evening on a charge possession of marijuana following a traffic stop. The K9 Eros from the Merrill Police Department alerted to the odor of drugs in the vehicle. A 36 year old Merrill man will face a felony OWI charge after a crash in the Town of Pine River Friday night. Two men were taken into custody after a deputy stopped to check on two motorcycles parked on the side of the road on USH 51 near Irma Sunday morning. Both men were placed through field sobriety tests, as result of those tests a 46 year old from Cato in Manitowoc County was cited for a first offense of operating a motor vehicle while intoxicated and 44 year old Forest Junction man was arrested on a felony fifth offense of operating a motor vehicle while intoxicated. Both men were on probation and were also charged for violating the terms of their probation. A 33 year old Merrill man was arrested Sunday morning after deputies responded to a domestic incident in the Town of Bradley. Deputies arrested the man on a misdemeanor charge of battery along with felony charges of substantial battery and intimidating a victim. The man is being held for a bond hearing on Monday afternoon. The number of deer crashes is still steady at 11.

+ Read More
$350k SuperCash! Ticket Sold in Medford

Published on 09/16/2019 under News A Northwoods lotto player won more than a quarter of a million dollars last week. The Wisconsin lottery announced that a winning SuperCash! ticket was sold in Medford. By matching the six numbers, the ticket holder won $350,000. The lottery says the winning ticket was sold at Krist Food Mart in Medford. The winner has until March 9 to claim their prize.

+ Read More
Merrill Continues 'After the Bell' Program

Published on 09/16/2019 under News When the school bell rings at the end of the day in Merrill, middle school age students have a place to go. The program is known as "After the Bell," a partnership organized by the district and Lincoln County UW-Extension 4-H and thanks to the support of individuals, community organizations and area businesses. Last week marked the start of the 16th year the program has been offered. During that time more than 700 youth have participated. After school programs not only keep kids safe, they also help improve students' academic performance, school attendance, behavior and health, and support working families. Each day the program offers students a place to participate in enrichment activities, do their homework, play games, visit friends, and/or have a snack.  Students do not need to attend the program every day but can choose which days they wish to attend. The program is for Middle School Aged students in Merrill. They meet at Prairie River Middle School four nights a week. Information, including the necessary sign-up information is available in a number of locations including Prairie River Middle School Offices, the TB Scott Library and the UW-Extension Office.

+ Read More
Fall Ride: Thunder Parade Continues Tradition

Published on 09/13/2019 under News After several kick-off events the past few days, action really revs up today for the Tomahawk Fall Ride. The roads have been filling with bikes all week long as tens of thousands of riders converge in Tomahawk for the 38th edition of the Fall Ride. Today's highlight, as it is each Friday dating back to 1991, the Thunder Parade. That has nothing today with the rain we've had this week, but the rumble of bikes as they make their way around the area. The evening cruise typically features around 1,000 bikes leaving from the Tomahawk School Campus at 6pm. They typically pick up additional bikers on the route. Riders then take a scenic 18 mile tour through rural Tomahawk before returning to Main Street later in the hour. The participants ride down Main Street, where the annual Street Dance follows. While that's the main attraction, there is no shortage of other activities throughout the day at SARA Park, the Harley Plants, and Nokomis Park. That includes vendors, the 2019 Harley Demo Fleet, live music, organized rides, and plenty of other activities. Check out the WJJQ Community Calendar for a listing of events, times, and locations. And stay tuned to 92.5 for live updates on location including our annual Thunder Parade reports from Gregg Albert in the lead up to the event.

+ Read More
Group Riasing Money for Tomahawk K9 with Wood Carving Raffle

Published on 09/13/2019 under News A group of Tomahawk residents are looking to ensure the Tomahawk Police Department's canine unit continues. Vali, Tomahawk's first K9, has worked for 6 years now. While not quite ready to retire, that time is coming in the next few years. We were recently joined by Patty Tholl and Andrea Krueger who were involved in planning this fundraiser. The goal is to get a start on raising money for Vali's eventual successor. While a valuable tool, Tholl noted that maintaining a canine can run in thousands of dollars annually. That's after a significant initial investment to obtain and train the dog. That led to this year's raffle fundraiser. Tholl says the seeds were planted back at the Spring Fling when she was discussing the topic with the Tomahawk Police Chief. She saw a large wood carving of what looked like a biker and the idea clicked. They obtained the wooden piece from Bear Butt Carvings in Medford and have been selling raffle tickets over the past two weeks. The remaining tickets will be available at the Rodeo ahead of tomorrow's drawing . In addition to the drawing, Krueger noted that the city does maintain a donation account at Tomahawk Community Bank year round.

+ Read More