"That meant going up a scree which was about 60 degrees, about 500 metres, with very loose rock that was cascading back down behind you," Mr McCarthy said.
Loading
"That was tough. It took about four hours to go 500 metres."
Ms Boterhoven De Haan, who has a black eye after slipping on a slimy rock and falling at another stage of the hike, described climbing the scree as the hardest hiking she had ever done.
That is some statement given that this year alone, the experienced hiker has climbed Mount Kilimanjaro, Africa's tallest mountain, and walked the Kohechi route, which is regarded as the most difficult among Japan's Kumano Kodo trails.
"You're climbing up rocky scree that's giving way as you move up, and then you've got the vines, which were entangling us," she said.
"When you're moving up the slope, the vines lodge themselves between the back of your head and your pack, so you would get trapped for a couple of minutes.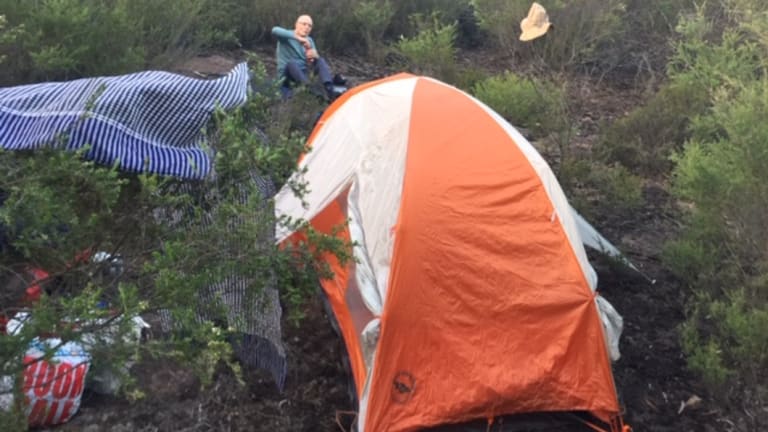 "It's hard when you're also battling the scree, to move forward, because you've got one foot moving forward and the rock's giving way underneath you."
Emergency services launched a search and rescue effort to find the pair on Wednesday after they did not return from their walk on schedule.
Mr McCarthy said they spotted helicopters overhead on Wednesday afternoon but did not manage to make contact with the searchers until Thursday, when members of the Rural Fire Service reached Pardon Point.
"There was a gully between us, what they call Gallows Gully, and we were able to have audible contact with them [by shouting across the gully]," he said.
Mr McCarthy said they were not able to see the searchers because of mist and rain, and they were advised to take shelter and wait out the approaching storm overnight before the searchers returned the next morning.
"We had enough food to stretch to the next morning," he said.
"I had All-Bran for breakfast and a coffee, nuts and a Gatorade. We stretched the food for the extra days, so we were well-prepared."
Both bushwalkers said they would like to thank the emergency services workers who found them and walked them out of the national park, noting that there were several volunteers among them.
Ms Boterhoven De Haan said the pair had been planning to wait for better conditions before plotting a course out of the bush when the searchers found them.
"[The emergency services] thought it was better to come and get us and walk us out, rather than giving us perhaps obscure directions on how to get out on our own," she said.
"They showed great professionalism and they were totally delightful.
"We're very regretful to have caused any concern."
Ms Boterhoven De Haan said she was feeling well despite her eye injury and that she was looking forward to her next adventure; canyoning at Macquarie Pass next Sunday.
Mr McCarthy encouraged anyone heading into remote areas over the Christmas period to think about the risks and prepare well.
Blake Foden is a reporter at the Sunday Canberra Times. He has worked as a journalist in Australia, New Zealand and the UK.