Ryan Getzlaf has had an illustrious career with the Anaheim Ducks over the past 14 seasons, but is his time in the NHL coming to a close? We need to talk about that!
It is a tough pill to swallow, a sad thought and a hard truth. The Anaheim Ducks Captain, Ryan Getzlaf, may be nearing the end of his career. Before you turn away from your screen because you don't want to deal with it, hear me out and we will work through this together. Let's start from the beginning and work our way to where this could go in the next couple of years.
The Great Captain's History
Ryan Getzlaf was drafted 19th overall by the Mighty Ducks of Anaheim in the 2003 NHL Entry Draft.  He made his NHL debut on October 5th, 2005 and finished his rookie season with 14 goals and 39 points in 57 games played, coupled with 7 points in 16 playoff games.
Then, in his sophomore season, the team had rebranded and changed their name to the Anaheim Ducks, and with that change came a shift in their game. They bullied and bruised their way to the Stanley Cup final after dominating their competition in the rounds before. They came up against the Ottawa Senators and brought home to California the first Stanley Cup in state history. Getzlaf was a monster, the centerpiece of the "Kid Line" and the team leader in points during their playoff run, with 17.
He became the Captain of the Anaheim Ducks during the 2010-2011 season and has continued his career with a level of success that few NHLers can maintain. For years, Getzlaf seemingly willed his team to wins single-handedly. Getzlaf brings a tenacity to his game that few can match. His physical and bruising style combined with his skill with the puck and lethal passing ability makes him a daunting figure to line up against and a tough matchup for any coach or team to plan for.
Is His Time in the NHL Coming to a Close?
Here is where this story shifts. With that dominant and punishing style comes a cost, and in recent seasons we have started to see it. Some injuries have been just plain bad luck (which seems to follow the Ducks around like a rain cloud) some have seemed to be the human body's natural response of "We can't do this anymore". With any athlete, there is stubbornness and a mind over matter component, especially in this sport. Nevertheless, Father Time catches up to everyone.
Getzlaf seems to understand this, he sees the shift to youth that the Anaheim Ducks are moving towards and is shifting his thoughts to compliment it. Joe Thornton, a common enemy and fierce opponent of Getzlaf, is a perfect example of where I see him headed. I see him playing with the Anaheim Ducks till he decides to hang them up, and it can work, and work well.
I do not believe that the team has a player ready to take his spot as the first-line center, but I do believe they will employ a larger share of the minutes with the second and third lines and let the kids take some of the burdens off of him to shoulder the load and I believe it will be a resurgence in his career in a multitude of ways.
Getzlaf's track record, demeanor, and the C on his jersey all point towards his natural leadership and the makings of a strong role model. With young centers Sam Steel, Isac Lundestrom, and Trevor Zegras in the pipeline, it seems the changing of the guard is coming at a perfect time. Steel will have the first crack at pulling some of that weight this upcoming season. Zegras, the Ducks 9th overall selection in this years NHL draft is already building buzz and seems to be the heir apparent to Getzlaf with the impressive skillset he currently possesses.
It is an exciting time to be a Ducks fan and as this season approaches just remember you have the privilege of watching one of the all-time-great Anaheim Ducks play the greatest game in the world. It is our time to be more appreciative for his leadership and the flairs of brilliance he will still provide, and rejoice in the glory that is Ryan Getzlaf.
Next:
Anaheim Ducks Potential Lineup Options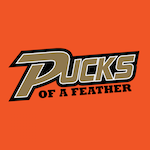 Want your voice heard? Join the Pucks Of A Feather team!
Write for us!
Do you love the Anaheim Ducks enough to write about them? Would you like to write for our site as a Contributor? We have open positions available right now and would love to add more to our team! Apply above!