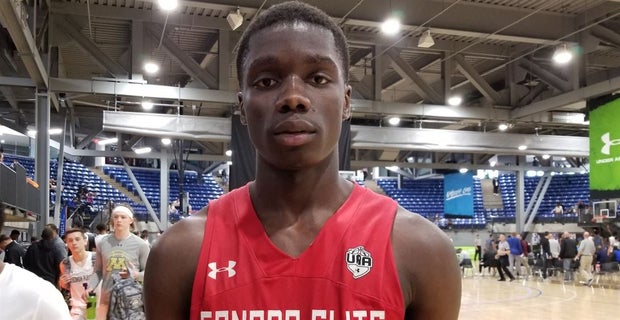 Maryland's biggest challenger for Karim Mane might not be Kentucky or Kansas, but the professional ranks.
The Terps top backcourt target is eligible to enter the NBA Draft next year and skipping college is "definitely a possibility", he told ESPN.com's Jonathan Givony following an eye-opening performance at the U19 FIBA World Cup in Greece earlier this month.
"If that's a possibility, that's one of my main goals," Mane told ESPN. "But at the same time, I want to get an education too; that's important for me and my family. I have to think about it, but that's definitely a possibility."
Mane, who didn't have any Power Conference offers before emerging as one of the top players in the Under Armour Association this spring, was reportedly unaware of the opportunity to enter the NBA Draft without spending a year in college prior to Givony mentioning it. ESPN recently moved the Canadian prospect into the first round of its 2020 NBA Draft, citing his elite physical profile — he stands about 6-foot-6 in shoes with a near seven-foot wingspan — as one of the main reasons why. If he decided to go to college and leave after his freshman year, Mane would be 21 on Draft Night, which could hurt his perceived potential. Only a few class of 2020 guards have more upside than Mane, according to 247Sports national recruiting analyst Brian Snow.
"He is old for the class, so that makes some wonder if he is maxed out physically, but all the tools are there for him to be a potentially elite point guard at the college level," Snow wrote.
Mark Turgeon was the only D-I head coach to travel to Greece to watch Mane at the U19 FIBA World Cup earlier this month and he was front and center for the top-30 combo guard on the first day of the July Live Period this week as well. The Terps were among the first major programs to recruit Mane and hosted him for his first official visit in May. They are considered the current favorite to land him, although Mane wants to take more visits and doesn't plan to decide on a school until the fall. Oregon, Xavier, Texas and Arizona are in the mix, while Kentucky and Kansas have also shown interest.
"I'm going to make a list of my favorites and take all of my visits and then hopefully make a decision in November," Mane told InsideMDSports.com this week. "I think I'll take all five visits, but I'm not sure."
Mane is one of two big-time backcourt targets Maryland is recruiting to replace rising senior Anthony Cowan, along with Alaska native Daishen Nix, who is ranked as the top point guard in 2020 according to 247Sports. Nix officially visited Maryland last November.