LAPORTE — The crack of the bat. The gentle swaying of tree branches. The purpling of the sky. The cheering from the benches.
The moment felt like any rec league softball game on a midsummer night in the middle of the America. But for some of the participants, it was so much more. For them, it was literally a lifeline.
The Intrepid Phoenix team ultimately lost that night's game — 12-11 — but several of its members had already won: by overcoming severe addictions to drugs and alcohol.
"It's definitely played a big role in my recovery, for sure," team manager Kevin Kowal said of his membership in Intrepid Phoenix, a LaPorte-based nonprofit that helps people stay sober by having them take part in various fitness activities.
Kowal, 27, of LaPorte, played baseball as a kid, then went years without doing much of anything athletic as he spiraled into addiction.
"When I decided to get sober, it was time for new scenery," he said.
Kowal, now a technician at an oil refinery, heard about Intrepid Phoenix through a friend in recovery. Through the organization, he's found not only a new support community, but also something healthy to pass the time.
As one of the only members with baseball experience, he became the de facto manager, teaching softball to many people who've never played it (not all players on the team are in recovery; some were there just to fill out the roster).
He hit a leadoff single to start the recent game, then encouraged his teammates while on the bases. "Good eye, Seth," he said from first. His team was up 5-0 after one inning.
Intrepid Phoenix was started in July 2017 by Larry Smith, who had moved to LaPorte from the Chicago area for a job but lost it because of his drinking.
So he began attending recovery meetings and going back to the gym.
One day, he said, he was there "working out, wallowing in self-pity," when a "total stranger" approached him. As they got to talking, Smith said, the man told him to figure out what his passions were and pursue those.
"I'm passionate about the recovery community," Smith thought. "And I'm passionate about fitness."
The now 61-year-old gathered with a few people also in recovery and did yoga in the basement of a place in LaPorte that hosted meetings.
He partnered with local gyms that gave him deals on memberships, which people in Intrepid Phoenix get, along with free personal training. He formed softball, volleyball and basketball teams.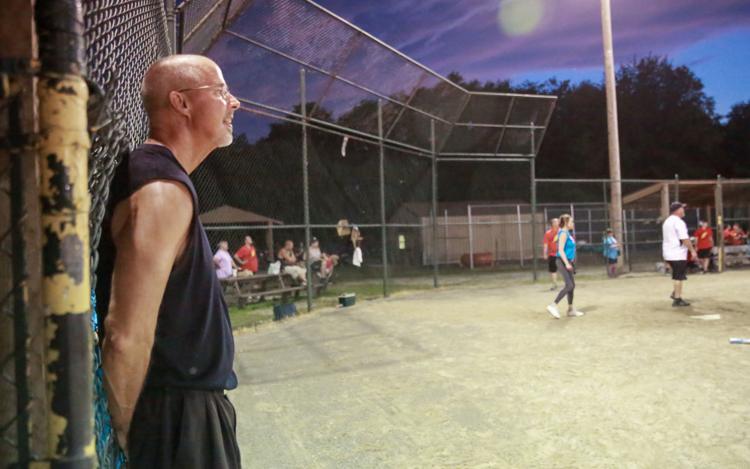 In the two years since founding Intrepid Phoenix, he has had about 170 members, roughly 130 of whom who are still active.
The organization now serves four counties — Porter, LaPorte, Starke and Marshall — with hopes to expand to Lake, St. Joseph and Allen. Members live in LaPorte, Michigan City, Chesterton, Valparaiso, Knox and Plymouth. They hear about the group through local drug courts, halfway houses, recovery meetings.
Intrepid Phoenix gets funding from members, who pay $20 a month (if they can), but also foundations.
Register for more free articles.
Stay logged in to skip the surveys.
"Our philosophy is a holistic approach to life: mental, emotional, physical and spiritual development," Smith said.
The concept just made sense. Exercise has been found to have a variety of health benefits, both mental and physical. 
Physical activity releases the same neurotransmitters — dopamine, endorphins, serotonin — that drugs do, but without the negative side effects. "It's about finding healthy ways to get that same pleasure chemical release in our brains," Smith said. "There is a scientific basis behind it."
It can reduce anxiety and depression, help with sleep, improve self-confidence.
"When you're coming out of being an active addict, your self-esteem is very low," Smith said. "As a group, we get back into normal life, into a community."
That includes doing volunteer work locally.
All of this has helped Smith with his own recovery. He's been sober 3.5 years, he said, after drinking for four decades. Last year, he became a personal trainer.
On the recent, serene summer evening in LaPorte, Intrepid Phoenix members were happy to have a healthy, productive activity to do with people like them.
"It gives you something to look forward to. I don't have a lot of sober things to do," said Jenny McCracken, 34, of LaPorte, one of the original members of Intrepid Phoenix. "It gives you an opportunity to meet people."
"It keeps them not out in the streets," said Ed Murphy, 36, a LaPorte chemical mixer, who is not in recovery but who plays for the softball club with his mom, Cheryl Murphy, who is.
"And out of the bars," she said. Cheryl Murphy, 58, a LaPorte house cleaner, catches for the team — she was injured on this day — and also works out with a person trainer at the Y.
Josh Froseca, 31, of Michigan City, is one of the group's newest members, having been with Intrepid Phoenix for about a month and a half, and new to recovery.
Thanks the organization, he now goes to the gym nearly every day.
"It helps tremendously, especially with your mental health, how you feel," he said, as he smoked a cigarette, waiting for his next at-bat the other night. "It gets you feeling OK. Drugs and alcohol take a lot out of you."
He worried about how his cognitive capacity was affected by his substance abuse.
"Sometimes you don't know if it's ever going to come back," he said. "You do something like this, and it jump-starts you."
A few moments later, in the top of the seventh inning, an Intrepid Phoenix runner scored, putting the team ahead.
"Intrepid Phoenix rising!" one of the team members called out.