The Mercedes Formula 1 team always knew it was likely to have the wrong car package for Spa and Monza, boss Toto Wolff has admitted.
Ferrari won both the Belgian and Italian Grands Prix with Charles Leclerc, resisting race-long pressure from Mercedes on both occasions.
But Wolff conceded that there was only ever a slim chance of his men coming out on top at the two high-speed tracks, where Ferrari's low-drag configuration and power advantage kept it ahead.
"We knew that we didn't have the right package for Spa and Monza," he said. "Actually second and third was an optimum result for us on the grid, and I said before if we would finish the race in these positions, we'd probably take it.
"As racers obviously there's the feeling of not entire happiness. You're trying to follow a car, DRS wide open, a long straight, and you're not able to come anywhere close.
"Obviously you feel like you're not fighting with the right weapons.
"But I don't want to take anything away from Ferrari and from Charles. They had the strongest package and an upcoming great, hard-driving young man. You've got to give them the credit."
Wolff said Mercedes had not held back at all with its engine modes at Monza, despite the reliability concerns that have surrounded its Phase 3 engine since its introduction in Belgium.
Asked by Autosport if more conservative settings had been used, Wolff replied: "No, we were not holding back on engine modes anymore."
Ferrari's straightline speed advantage has been helped by its car being aerodynamically efficient, but Mercedes is well aware that its rival also still has a power edge.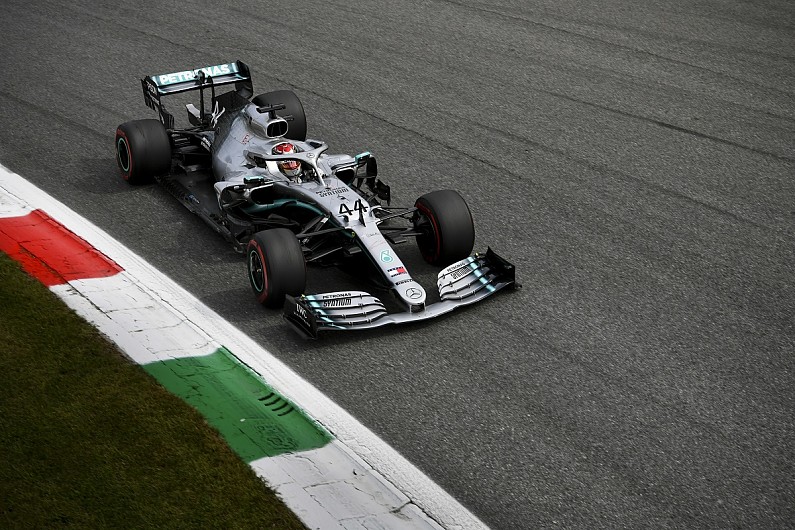 The gains that Ferrari has made with its engine in recent years has sometimes confused Mercedes, but Wolff said his team now "have a pretty good understanding" of where the difference lies.
World championship leader Lewis Hamilton said he hoped the intense battles for wins that he has had since both Ferrari and Red Bull became more competitive would continue.
Mercedes won the first eight races of the year but was defeated by its two main rivals in Austria and amid the chaos of Germany, and nearly lost the Hungarian GP to Red Bull's Max Verstappen before Ferrari hit form over the past fortnight.
Asked if the next few races will favour him and Mercedes after two 'Ferrari circuits', Hamilton said: "I'm not thinking that way.
"I'm not looking to the next race thinking it's going to swing our way.
"I hope I can do a better job in the next race. If they are as competitive in the next race, great.
"I hope it's competitive between us and the Red Bulls and the Ferraris in the next race.
"I personally want this battle to continue. More opportunities like that would be great."
Mercedes has enjoyed the stronger performance at slow-speed circuits this year compared to Ferrari, although Red Bull's challenge at such venues has improved through the season.
Next week's Singapore GP should be better suited to Mercedes and Red Bull, and Hamilton's team-mate Valtteri Bottas is encouraged by how close Mercedes was to Ferrari even at the power-sensitive Spa and Monza.
"Singapore on paper is better for us compared to Ferrari," said Bottas. "And we're very close to them [at Monza]. "So it should be good. We have to see, it's a special track, very hot conditions, unique in what it needs mechanically from the car.
"I look forward to it. There have been many races I've been able to turn around this year that have been difficult in the past.
"I've been able to be competitive and I'm aiming to do that in Singapore."