'What a ride'
The CTC ride is the brainchild of three cyclists in Pittsburgh: Michael Brown, Carol Clemens, and Eric McKeegan. In 2005, they planned to find a dirt road course in the northern part of the state, but as McKeegan remembers, "the logistics would have been tremendous." So the three turned to paper maps to find an alternative endurance ride.
"We realized that the Pennsylvania bicycle route S traveled all the way across the state in the southern part and from Pittsburgh, there was a relatively easy route using the GAP trail, which is the Great Allegheny Passage down to route S and then across the state," says McKeegan. "And then there's the Schuylkill trail that takes you right into downtown Philadelphia, and you're able to get to the Liberty Bell from there."
They thought they were onto something that could really work.
"In one evening, we realized that we could have a route that went all the way across the state that we wouldn't need to mark, that we wouldn't need to really do any promoter work for," he said. "All we needed to do is set a date and time and do a pretty minimal amount of promotion. And then see what would happen."
The ride started developing a small but passionate following. People kept lining up at the starting line in late April or early May.
Crush the Commonwealth welcomes all riders. There are some like Anderson who travel at a comfortable pace and stop to sleep and eat complete meals. Then there is another group that goes all out trying to set a new course record. So while Anderson was sleeping, other riders climbed gently up Cowan's Gap through the state park and over to Chambersburg. From there to Valley Forge, it's a less arduous route.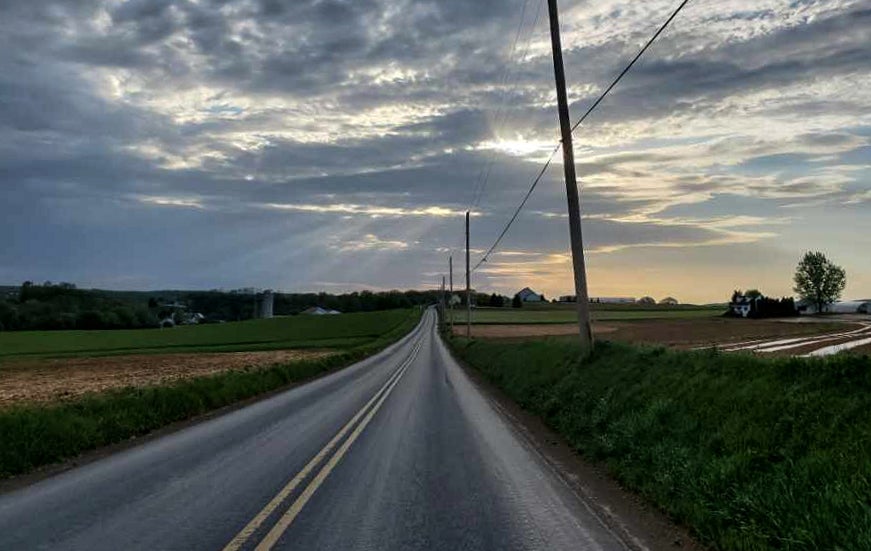 In 2009, Dan Blumenfeld got wind of the ride and decided to do it solo.
"I was delighted to find that after the first 18 hours or so of more or less endless climbing, the rest of the ride is mostly downhill," said Blumenfeld, who is sitting out this year's trek.
That first year, Blumenfeld was the first to arrive at the Liberty Bell, even after taking an unfortunate wrong turn on his way into the city along the Schuylkill River. Pulling into a quiet Philadelphia, the no registration, no support, no real rules, and no prizes nature of the CTC hit home. Would anyone know of his accomplishment?
"I think maybe five people counting my mother knew, so I wouldn't say there is much in the way of bragging rights," he said. "But it's something that's been in my mind ever since."
Steve Gergely set a new course record this year, becoming the first-ever CTC rider to complete it in less than 24 hours.
As for Anderson, he finished riding on Sunday at 1:07 p.m. after 56 hours on his bike.
"What a ride — what a tough ride! I am glad I came out and did this, I'm super happy I finished, but I'm also really super happy to get off this bike. I am profoundly tired and I've got a sore knee. I think a shower and a few adult beverages are in my near future."